Emma se uvukla u srž onoga što jesmo i pokazala nam šta sve imamo. Ona je jednostavno trebala da dođe i danam na to ukaže, na ono što često zaboravljamo ili čega se sramimo. Na šarm cigarom progorenih stolnjaka po kafanama, na ispucale i najnježnije ruke naših baka, na generacije koje zajedno rade u polju, na sve ono što, u suštini, čini jednu kulturu. Evo gdje je i kako nastala Emmina priča sa Srbijom i otkud ona baš ovdje.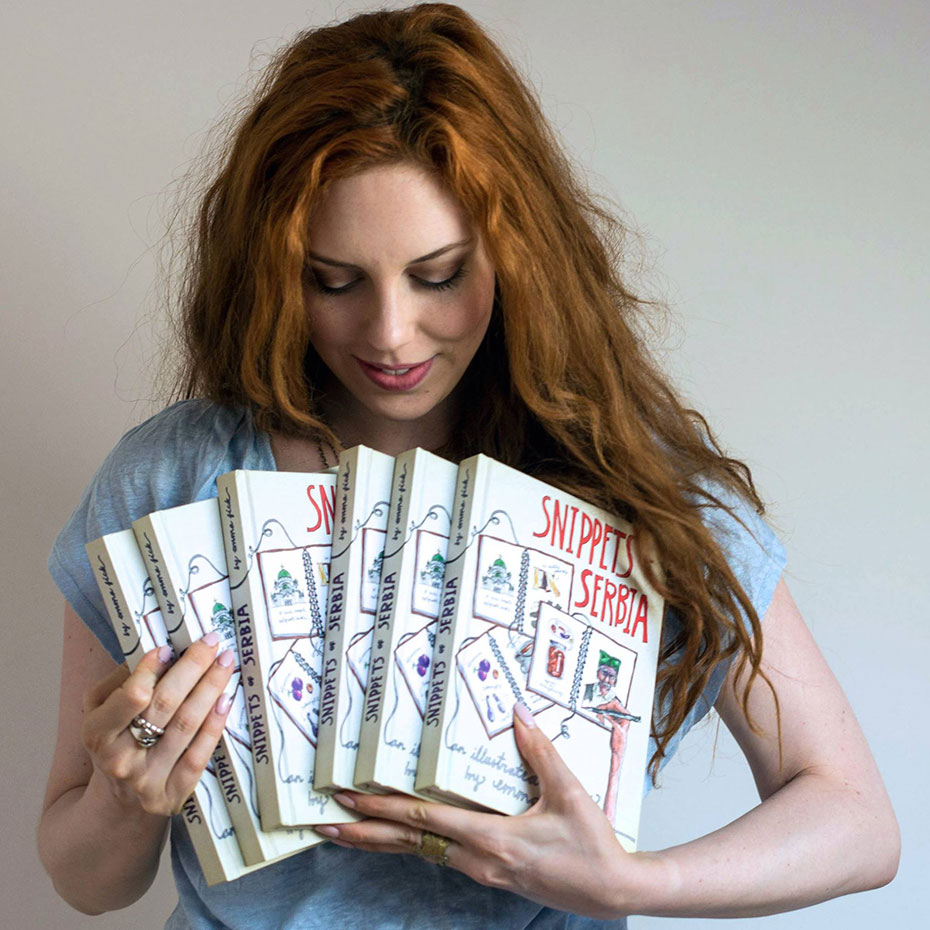 Emma, rođena si i odrasla u Luizijani, a studirala si Englesku književnost i Istoriju umjetnosti na Univerzitetu Alabama. Nakon toga si se preselila u Srbiju da bi predavala engleski jezik u okviru osvojene Fullbright stipendije. Kako se to desilo i da li si imala nekakve veze sa Srbijom ranije?
Znala sam da želim da provedem neko vrijeme u inostranstvu između osnovnih i postdiplomskih studija. Pokušavala sam da odlučim gdje da odem, kada je priča moje bake o Srbiji počinjala da dobija sve više na značenju. Počela sam da tražim više detalja o tome kako je porodica moje majke u Drugom svjetskom ratu pobjegla iz Austrije, a potom došla u Ameriku preko Beograda. Što sam više istraživala porodičnu istoriju, to sam sve više željela da se vratim u Srbiju, da bih naučila što više o ovoj zemlji i čovjeku koji je spasio moju porodicu. (Sestra moje bake se udala za čovjeka po imenu Niki Petrović, koji je za moju jevrejsku porodicu platio transport iz Beča u Beograd, a potom i brod do Njujorka).
Kako su se desile tvoje prve ilustracije? U jednom intervjuu si rekla da si uvijek bila umjetnički nastrojena, ali da si tehniku akvarela naučila u Srbiji?
To je tačno. U školi nisam imala nikakvu formalnu obuku u umjetnosti, ali sam uvijek voljela da crtam. Kada sam otputovala da predajem engleski preko Fullbright stipendije, obećala sam sebi da ću prenijeti svoja iskustva crtanjem i slikanjem. Ispalo je da je to bilo mnogo veće obećanje nego što sam očekivala! Bilo je toliko toga za vidjeti i razumjeti, počela sam da crtam non-stop. Imala sam samo jednu četkicu i jednu paletu boja kada sam otišla i učila sam akvarel sa tim jednostavnim priborom preko 10 mjeseci. Odustala sam od plana da idem na postdiplomske studije i odlučila da stvaram umjetnost kroz puno radno vrijeme.
Kada si shvatila da sve svoje ilustracije treba da staviš u jednu knjigu? Da li je tako nastala knjiga "Snippets of Serbia"?
Nakon što sam završila predavanje engleskog jezika, aplicirala sam kod Ambasade Sjedinjenih Američkih Država u Beogradu za novčana sredstva kako bih držala časove ilustracije (workshops) u okviru čitave Srbije. Takođe sam se obavezala da ću raditi i ilustracije za sebe i objaviti ih na nekoj izložbi pri isteku ta četiri mjeseca. Pa, već nakon pola puta, shvatila sam da imam skoro pa dovoljno ilustracija za jednu knjigu. Stupila sam u kontakt sa izdavačkim kućama u Srbiji, desilo se da se njima dopao moj rad i ostalo je već istorija!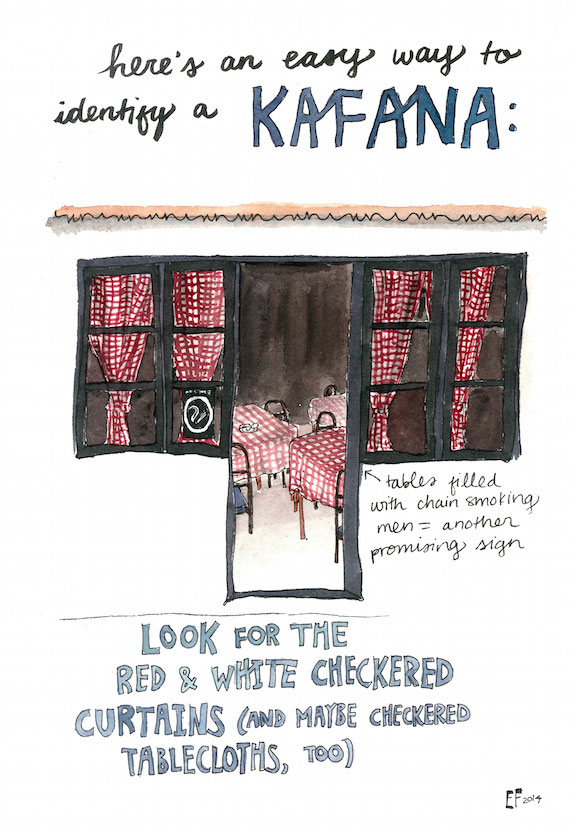 Dopada mi se jednostavnost tvojih crteža, pomiješanih sa tvojim riječima. Kako bi ti opisala svoj pristup ilustraciji?
To je zapravo vrlo vremenski-intenzivno. Potrebno je mnogo vremena da bih napravila da oni izgledaju jednostavno. Na primjer, ako sam na pijaci, moram izabrati jednu sliku koja objedinjuje cjelokupno iskustvo, umjesto da pravim 50 različitih ilustracija za svaki mali detalj. Moja namjera je da sa malo izrazim mnogo, a to uzima dosta vremena i razmišljanja. Ja uvijek pišem bilješke i zapisujem ideje, napravim mnogo ideja za "Snippets" prije nego odaberem tu jednu sliku koja je najbolja. Riječi koristim samo za pojednostavljenje – ne želim da pravim paragraf za paragrafom, ali želim da podijelim priče, ili činjenice ili utiske. Tako da pišem, prepravljam, sužavam tekst sve dok nisam zadovoljna. Volim to što ljudi smatraju da svoje crteže radim direktno iz glave! To znači da crteži izgledaju kao da su nacrtani bez napora, što mi se dopada.
Toliko je različitih stvari i divnih informacija u tvojoj knjizi "Snippets of Serbia". Kako si saznala sve te stvari? U nekim momentima sam osjećala da znaš više toga o Srbiji nego ja (smijeh).
Mnogo sam putovala! I postavljala sam mnogo pitanja! Uvijek radoznala i u potrazi za detaljima. Takođe, iznenadila bi se kada bi znala koliko informacija dobiješ, ako izraziš samo mrvu interesovanja. Volim da sakupljam priče.
Sada si se već vratila u Ameriku. Kako bi opisala protekle dvije godine? Prijateljstva, posao, putovanja? Čak su i tvoji roditelji posjetili i proputovali Balkan preko ljeta. Da li je to bio tvoj pozitivni uticaj?
Godine u Srbiji su me promijenile i u privatnom i u profesionalnom smislu. Lično, naučile su me kako da budem fleksibilna, nezavisna, da ne dopustim da me sitnice iznerviraju. Srbija me takođe naučila jednu veliku lekciju o velikodušnosti. Moji prijatelji jesu i uvijek će mi biti dragi – Srbija nije Srbija bez ljudi koji ovdje žive. Baš zbog tih prijatelja, Srbiju ću uvijek doživljavati kao "dom", čak i kada se vratim kao posjetilac, a ne kao njen stanovnik. Da, roditelje sam provela kroz Srbiju, Bosnu i Hercegovinu i Hrvatsku, u trajanju od 3 sedmice. Bilo je to sjajno putovanje i oni ne mogu da dočekaju da se ponovo vrate.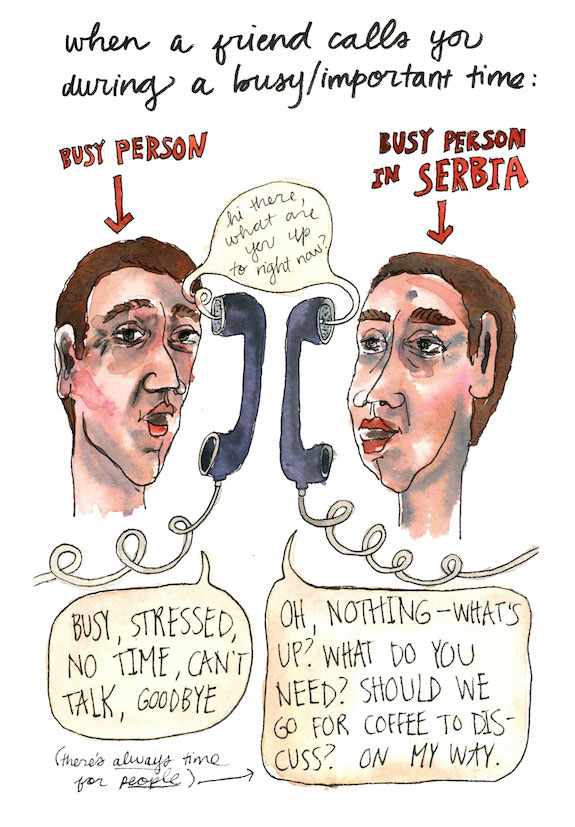 Šta je to što te trenutno fascinira i kako to utiče na tvoj rad? Vidjela sam da spremaš knjgu "Snippets of New Orleans" i možda "Snippets of Brazil"?
Bože, SVE me fascinira – što je baš sjajno za projekat "Snippets". Imam osjećaj da moj posao istražuje život oko mene, bez ikakvih ograničenja. Učim o hrani, muzici, pozorištu, istoriji, ljudima, svemu što ima veze sa jednom kulturom. Volim detalje, koji su amblemi jedne kulture, ali oni izgledaju tako "normalno" da ljudi zaboravljaju da ih vide. Takođe volim hranu – ukusna je i zabavna za slikanje. I kao takva je poveznica kroz razne kulture. Da, trenutno radim na "Snippets of New Orleans" i kada završim, radiću na "Snippets of Brazil" – osim ako se ne izgubim u nekom drugom pravcu. Ali za sada, to je plan. (Mada, ako me je Srbija naučila nečemu, to je da budeš fleksibilan sa planovima!).
Ljudi mogu da vide i kupe tvoje radove preko tvog web sajta. Takođe, na dnevnoj bazi, na Facebook-u objavljuješ svoje crteže, kao i na Instagramu. Prije nekoliko dana sam vidjela da te je jedna djevojka, Mima, kontakti rala jer je prepoznala svog oca na jednoj od tvojih ilustracija. Pretpostavljam da ti to mnogo znači, ali kako bi ti to opisala?
Mimina poruka mi je uljepšala dan! Obično, kada pravim ilustracije o ljudima, znam da oni vjerovatno nikada neće vidjeti moje crteže ili saznati kakav su uticaj imali na mene i na svijet oko njih. Mimina poruka je bila divan izuzetak tog pravila. Skoro godinu dana kasnije, sasvim slučajno, naišla je na fotografiju svog oca, u njihovom voljenom, porodičnom autu. Odmah ga je prepoznala. Kakva divna slučajnost! Momenti poput ovih jesu ono što čini moj posao smislenim i vrijednim da se nastavi.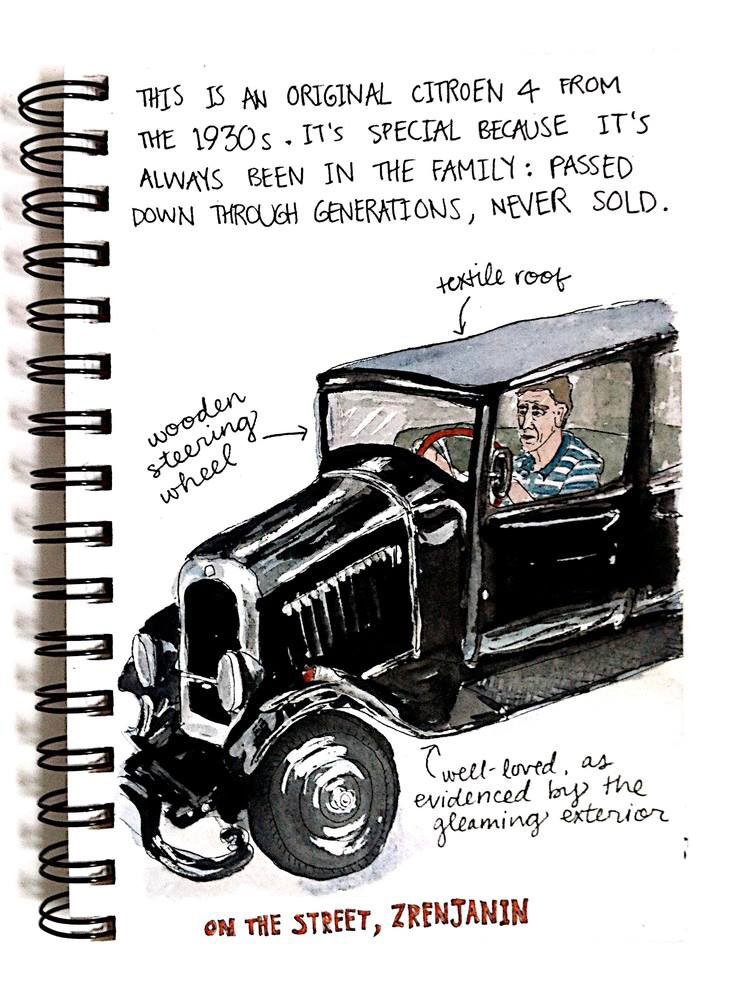 Kada ćemo te opet vidjeti u Srbiji?
Nisam sigurna, ali nadam se ranije nego kasnije! Plus, baš mi je nestalo Plazme, tako da će to morati da bude uskoro…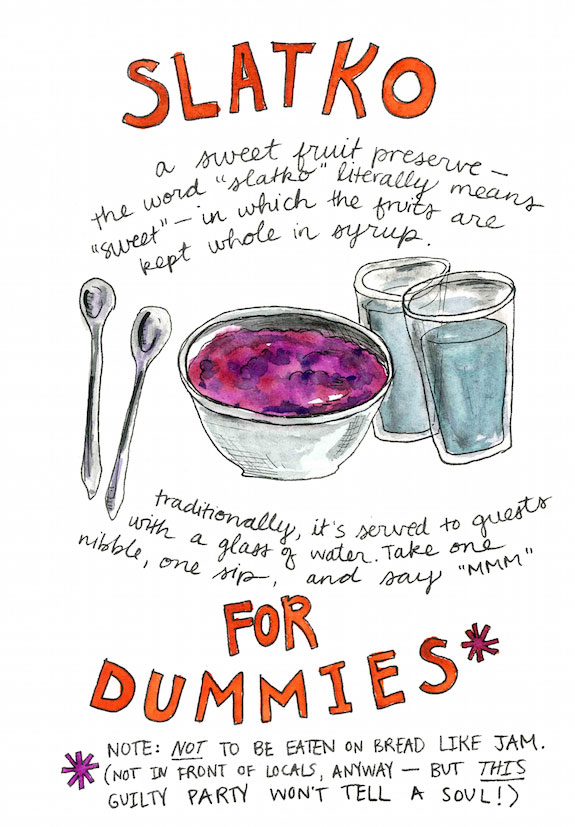 Želimo ti sreću u narednim projektima i hvala ti na svim crtežima koje si za nas napravila.
Hvala puno! Zaista je bilo zadovoljstvo živjeti u Srbiji i upoznati njenu kulturu.
English version
Emma, you were born and raised in Louisiana and you received BA in English Literature and Art History from the University of Alabama. Than you moved to Serbia to teach English on a Fulbright scholarship. How does this happened and did you have any connections with Serbia before?
I knew I wanted to spend some time abroad between college and graduate school. I was trying to decide where to go when my grandmother's stories about Serbia began to take on more meaning. I started looking for details about how my grandmother's family fled WWII in Austria and came to the States by way of Belgrade. The more I looked into the family history, the more I wanted to return to Serbia to learn about this land and this man who saved my family. (My grandmother's aunt married a Serbian man named Niki Petrovic, and that man paid for my Jewish family's passage from Vienna to Belgrade and then on to New York City on a boat).
Your first illustration, how did that happen? In one interview you said you were always artistic person, but you learned water painting in Serbia?
That's right. I didn't have any formal arts training in school, but I always loved drawing. When I traveled to teach English on the Fulbright scholarship, I promised myself I would communicate my experiences with drawing and painting. It turned out to be a bigger promise than I anticipated! There was SO much to see and understand, I just started painting all the time. I only had one brush and one set of paints when I went, and I taught myself watercolor with those simple materials over the span of 10 months. I abandoned plans to go back to graduate school and decided to pursue art full-time.
When did you realized that you need to put all your illustrations in a book? Is that the way how "Snippets of Serbia" was created?
After I taught English on the Fulbright scholarship, I applied for a grant with the U.S. Embassy in Serbia to teach illustration workshops around the country. I also committed to doing my own illustrations and putting on an exhibition at the end of the four months. Well, about halfway through, I realized I had almost enough illustrations to make into a book. So I got in touch with a publishing house in Serbia, and they happened to like my work, and the rest is history!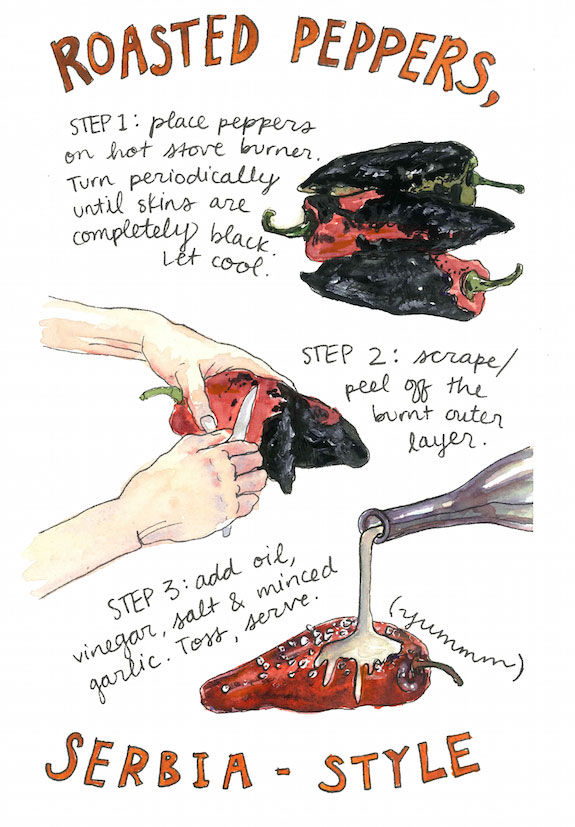 I like the simplicity of your drawings mixed with your words. How would you describe your approach?
It's actually very time-intensive. It takes a lot of work to make them look simple. For instance, if I'm at a market, I have to choose the one image that summarizes the whole experience, instead of doing 50 different illustrations about every little detail. My intention is to express a lot with a little, and that takes thought and work. I am always taking notes and writing ideas, and I make many sketches for ideas of Snippets before I choose the one image that's the most successful. The words take just as long to simplify—I don't want to write paragraph after paragraph, but I do want to share stories, or facts, or impressions. So I write and re-write and pare down the words until I'm satisfied. I love it when people think I do the drawings off the top of my head! It means they look effortless, which is what I'm going for.
There are so many different things and beautiful information in your "Snippets of Serbia". How did you find out all those things? In some moments I felt that you know much more about my country than I do (laugh).
I traveled a lot! And I asked a lot of questions! Always curious and looking at details. Also, you'd be surprised the information you get if you express even the smallest bit of interest. I love collecting stories.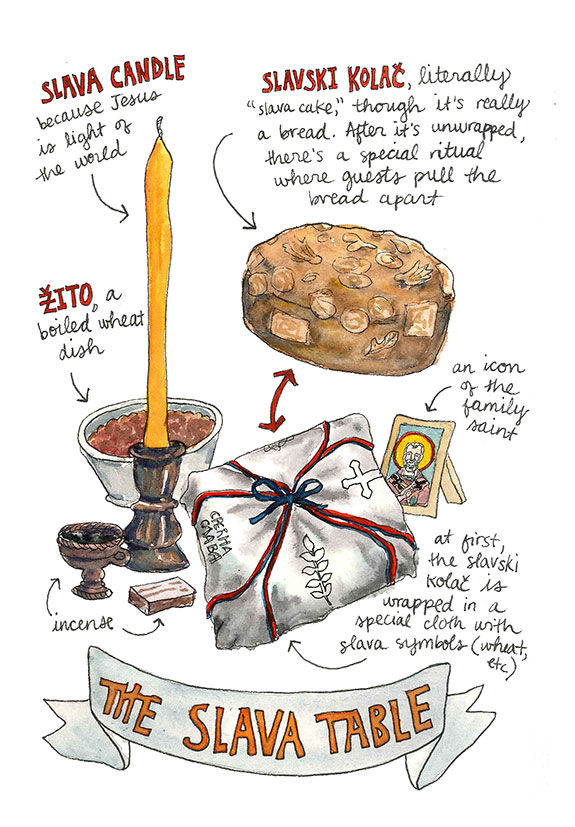 You are back in States now. How would you describe the past two years? Friendships you made, work, travels? Even your pa rents were here and travelled with you through Balkan in the summer. Was this your positive influence? 
They changed me on a personal and a professional level. Personally, it taught me how to be flexible, be independent, not let the little things bother me. Serbia also taught me a powerful lesson in generosity. My friends are and will always be dear to me—Serbia isn't Serbia without the folks that live there! Because of those friends, Serbia will always feel like "home" to me, even when I return as a visitor instead of a resident. Yes, I took my parents through Serbia, Bosnia and Hercegovina, and Croatia for 3 weeks. It was a great trip and they can't wait to return!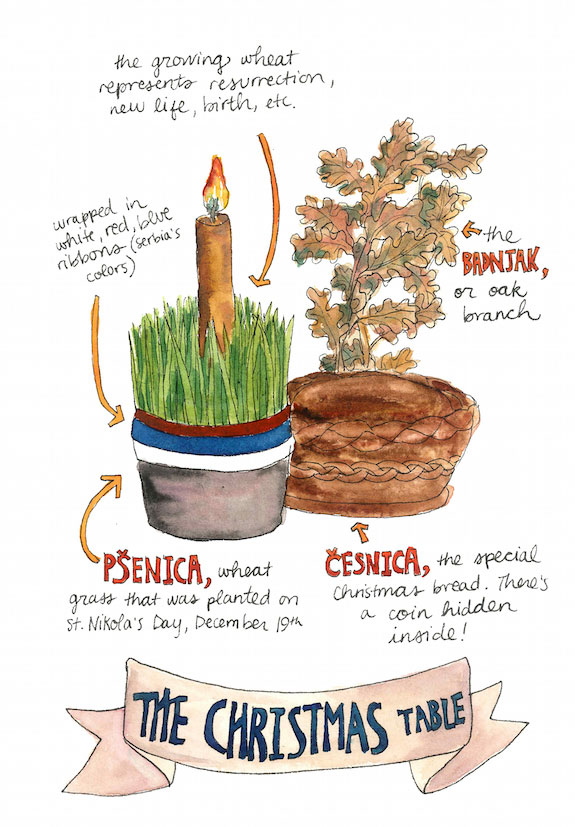 What fascinates you right now and how it affects your work? I saw that you are preparing "Snippets of New Orleans" and maybe "Snippets of Brazil"?
Goodness, everything fascinates me—which is what's so great about the Snippets project. I feel like my job is researching life around me, with no limits. I get to learn about food, music, theater, history, people, everything to do with culture. I love details that are emblems of a culture but seem so "normal" that people forget to see them. I love food too—it's delicious and fun to paint! And it's such a connector across cultures. Yes, right now I'm working on "Snippets of New Orleans," and when I'm done, I'll work on "Snippets of Brazil"—unless I get drawn in a different direction first. But for now, that 's the plan. (Though if Serbia taught me anything, it's to be very flexible with plans!).
People can see and buy all your work at your web site. You're posting your daily work on your Facebook page and Instagram also. Few days ago I saw that one girl, Mima, contacted you because she recognized her father in one of your illustrations. I suppose that it means a lot to you, but how would you describe it?
Mima's message really made my day! Usually when I make illustrations about people, I know they will probably never see my work or know what a wonderful impact they made on me and on the world around them. Mima's message was a lovely exception to that rule. Almost one year later, completely by chance, she came across an image of her father in their beloved family car. She recognized him at once. What a lovely coincidence! Moments like those are what make me feel like my work is meaningful and worth continuing.
When will we see you again in Serbia?
I'm not sure, but I hope sooner rather than later! Plus, I just ran out of Plazma, so it will have to be pretty soon….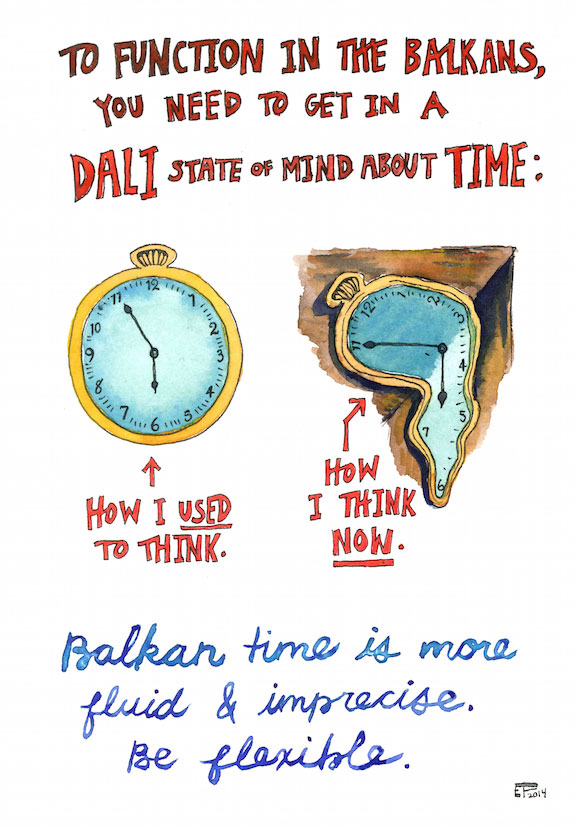 We wish you luck in your next projects and thank you for all drawings you made for us.
Thank you so much! It was a real pleasure to live in Serbia and get to know the culture.